Able2Extract has been around for so long, that there are strong chances that you have probably used it at some point in your life. As a PDF converter that first got released in 2000, Able2Extract has been downloaded millions of times and licensed by more than 200,000 users since.
Its latest version (version 11) comes with 3 new major features, all of which are designed to further increase user productivity and save you both time and money in the long run.
Besides PDF conversion, creation and editing, which is something in which Able2Extract is probably the best on the market, this latest release comes with added annotation, redaction, and PDF editing features. Let's take a closer look.
Annotate PDF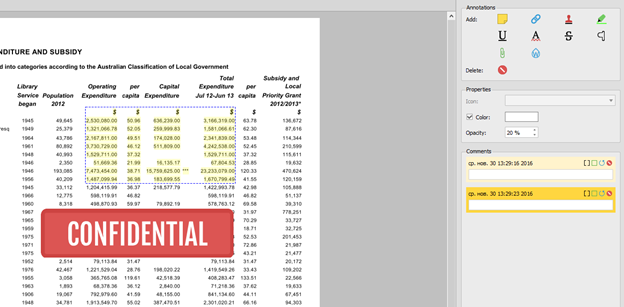 Able2Extract Professional 11 now lets you annotate PDF using all popular annotation methods. This means that you can collaborate on PDF documents much more easily. Open the PDF in the program, select one of the annotation methods and write your comments if there is a need for it. Once your co-worker opens that PDF he will see all the comments and make needed changes. This is simply reinventing PDF collaboration through more than 10 different annotation types, as can be seen in the screenshot above. You can choose between Sticky Notes, Stamps, Highlighter, Underline, Hyperlinks and more. Everything is fully customizable, including the color, icon, and the annotation opacity.
Redact PDF

If you're dealing with PDF often, there are strong chances that you are working with sensitive information that you just don't want to share with other people. But what happens if you need someone's feedback on that PDF? It's simple, just blacken out sensitive and confidential content using Able2Extract's PDF redaction feature.
Using the click & drag interface, select all content that you would like to remove, and the job is done. Then, you can either continue working on that PDF in Able2Extract or send it forward to your co-worker or a boss.
Editing Upgrades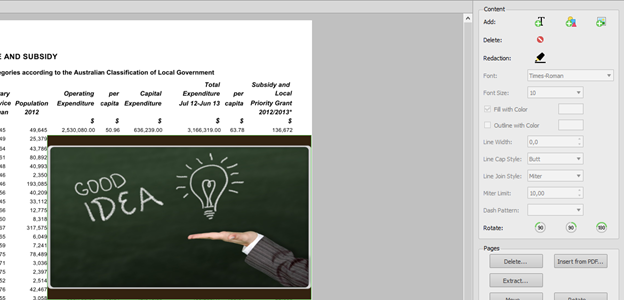 Version 11 saw one of the biggest upgrades in the PDF editing department. Although the previous version had plenty of PDF editing features, this one has upped the ante even more, by adding the ability to insert vector shapes, images and visually customize PDF content.
Using the editing panel on the right, users can now fill content elements with color, apply borders and font changes and even set up dash patterns. The primary PDF editing features still remained: merging, splitting and resizing PDF documents.
We also have to mention the standard features that made Able2Extract what it is today, most notably its pitch-perfect PDF conversion. This feature removed PDF to OpenOffice conversion due to the low interest from users. Instead, it has an improved OCR engine which will give you, even more, the accuracy with scanned documents and a brand new batch PDF to AutoCAD conversion.
Using the batch PDF to DWG feature, engineers and architects can now convert multiple PDF documents to AutoCAD and drastically improve their document processing times, whether they work in-house or for clients.
All of this and more will be available for download, starting from December 5. The free trial goes for 7 days after which the full, lifetime license costs $129,95.