MobileGo by Wondershare, which is available for both Android and iOS, lets you effectively manage your Smartphone or tablet. You have to pair your Android phone or tablet with the software via USB or Wi-Fi. On connecting, it displays the contents of your device categorised under Music, Videos, Photos, Contacts, SMS and Apps.
You select the category on the left pane and the contents are displayed in the right pane. The UI is so intuitive that you will figure out things in no time, thanks to the check boxes and the toolbar at the top that lists the functions. It lets you set songs as ringtones or alarm tones, manage your contact list, send text messages from your PC (via the phone), install apps, move apps to the SD card and do much more with just a few clicks. It also lets you choose multiple items, which makes it easy to uninstall applications. The Toolkit section features handy utilities to manage data on the SD card, backup all data with a single click, and find duplicate contacts. The most interesting is the backup function, which brings up a dialogue box when clicked. You have to select the data you wish you back up, and then on clicking the BackUp button, everything gets backed up to the specified location on the PC. An interesting feature that's not visible in the main UI is the notification function, which can be configured in the settings. The software pops up incoming call, SMS (with preview) and battery status (full or empty) notifications above the system tray.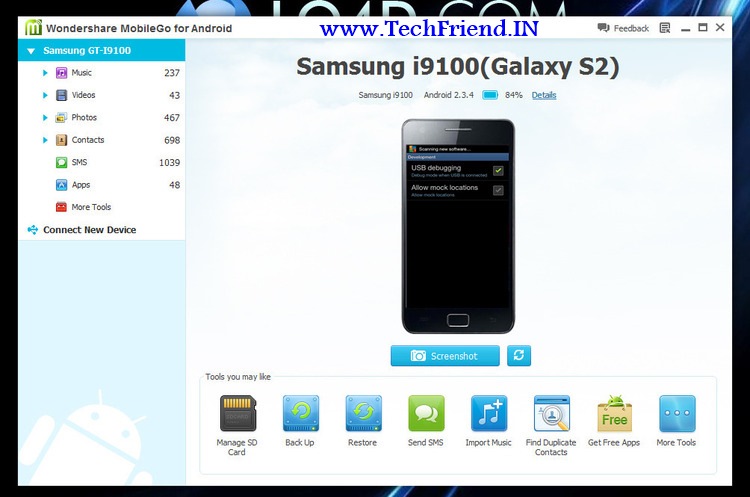 The Pro version, which costs $39.95 (approx Rs 2,200) is even more versatile. It lets you do advanced stuff like importing and exporting contacts from Outlook, importing iTunes playlists, converting music and videos and exporting music to iTunes.
Free version Download from here=> Click to Download
Please Share with Friends to Support us.
Thanks………