The iPhone 14 Pro is the latest and greatest model from Apple. It comes with a bunch of new features, including an improved camera system and a new design. If you're looking for the best deals on the iPhone 14 Pro, be sure to check out this blog post. We'll tell you where to buy it at the lowest price in India.
iPhone 14 Pro features: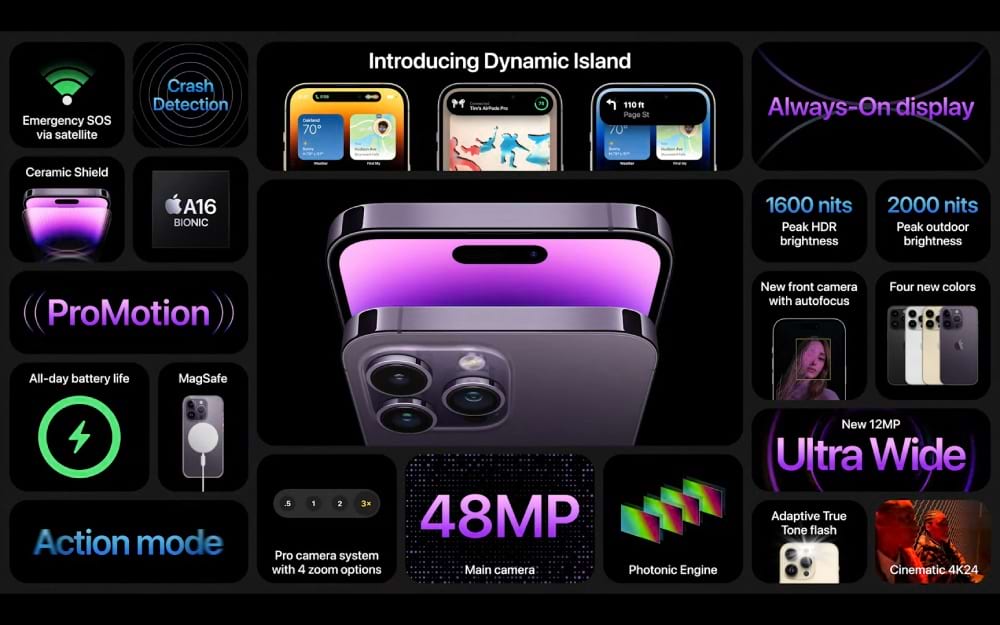 An all-new design – The iPhone 14 Pro will feature an all-new design that's sleeker and more modern than the iPhone 13 pro.
An updated camera system – The camera system on the iPhone 14 Pro has a new triple camera with a 48MP sensor and optical image stabilization. The iPhone 14 Pro also features a new ProRAW format that gives users more control over image editing. The new camera system is designed to improve low-light performance and enable a more detailed zoom.
5G support and satellite internet connectivity – The iPhone 14 Pro will support 5G, meaning faster download and upload speeds. In the absence of cellular service or Wi-Fi, you can text emergency services using the iPhone via satellite connectivity.
Dynamic Island – The display notch pixels surrounding the iPhone 14 Pro models merge into a pill-shaped area that changes size and shape depending on the type of alert, notification, and interaction, making it an information hub that's right in front of you.
Crash Detection – The iPhone 14 Pro has a unique feature that allows detecting a crash and calling for help. It will automatically notify your preset emergency contacts and other emergency services.
A powerful A16 chip – The A16 Bionic chip powering the iPhone 14 Pro will be one of the most powerful chips ever made for a smartphone.
Where to buy it at the lowest price in India?
When it comes to finding the best place to buy an iPhone in India, the options are very limited. However, for those looking to get the best deal on an iPhone in India, there are a few options that stand out above the rest.
One option for those looking for the best deal on an iPhone is online shopping sites. Online shopping sites like Apple's official website apple.com, Amazon, and Flipkart typically offer the iPhone at a lower price than most other retailers, and they also offer a variety of payment options that make it easy to get the phone financed with Indian Debit and Credit cards extra discount offers. They also offer free one-day shipping in metro cities and other places within a week.
iPhone 14 series prices start at 79,900 rupees in India, But in other countries, you can get it at a much cheaper price. So if you or anyone from your family traveling to the following countries: USA, Canada, Hongkong, Singapore, Australia, UAE, Malaysia, Japan, and China. Buying the iPhone there will save you a good amount of money.
Ultimately, the best place to buy an iPhone will vary depending on the individual's needs and budget. However, always deal with trusted online shopping sites and read everything in detail before you make the purchase.
In conclusion, the lowest price for an Apple product in India is not always the same as the lowest price in other countries.