Now MEA's Passport App Available for iOS and Windows Phones too!
If you are an Android user you might have been well aware of the famous Passport app that is available for the Android phones. The app is created by the Ministry of External Affairs. Guess after receiving a positive response for the Android app on the same by the Android users; the Ministry of External Affairs has expanded its app services for iOS and Windows Phone OS devices also.
The mPassportSeva Mobile App is the official name of the MEA's Passport app. It is the first government app that has been launched in the history of mobile application development if you don't include banking services as a utility app. This is first of its kind government app that has been launched to make passport-related services prompt, expedient and transparent. This app was launched for the Android platforms on July 11 2013.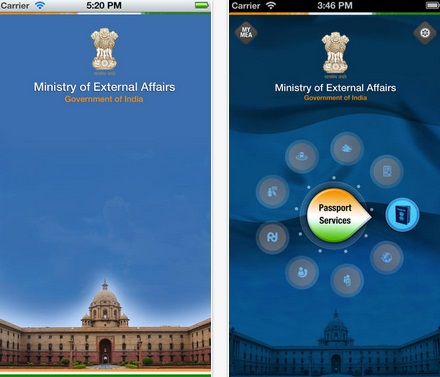 This is considered to be one among the largest projects for the Government of India. This comes under the famous National e-Governance Plan (NeGP) which is created to be executed in public-private-partnership approach with the popular Tata Consultancy Services (TCS) as the government's  private partner. This project is by now operational and is servicing citizens throughout 75+ Passport Seva Kendras that are present across India.
mPassport Seva app is originally designed for the citizens of India who are concerned in Passport related information alone. It's a flexible, hassle free, easy to use application that provides users with specific details on the areas such as exact location of passport e-seva centers, processing fees, application statuses, e-seva contact Information and other miscellaneous general Information.
The primary noteworthy features of the app are:
 This app offers information on the diverse steps that are engrossed in obtaining a passport related service. This also includes the contact number to call in case of any queries or genuine concerns.
 The users will now be able to simplify their search for a Passport Seva Kendra (PSK) or the District Passport Cell (DPC). Also the citizens who are living overseas can also find out the relevant information about any Missions or Posts abroad. Searching for nearby Police Stations are also available.
The users who have applied for passport can now track their passport application status using file number provided and the date of birth.
For the already dispatched passports, the delivery status will also be tracked.
Fee Calculator aspect is very useful for the users to find the required fee. The fees are based on the service done for the application and method of submission.
The app for  iOS platform is of a minimal size of almost less than 1 MB and it requires operating system of iOS 5.0 or later. The app is compatible with all of the iPhone, iPad, and iPod touch. Similarly the Windows version of the app will run on Windows Phone 8 as well as the previous Windows Phone 7.5.
Not to forget this is a path breaking initiative by the Government and it is already a successful app in Android.
Download for IOS go here=> Apple Store
Download for Windows Phone go here=> Windows Store
Author Bio: This useful content is contributed by Sienna Amelia, directed at technology people. As she is an iOS app developer at Contus, an Apple related iPhone apps development company. she has been involved in researching all about iPhone strategies. She can always share mobile technology-related subjects to make readers learn and share knowledge. Follow via Author: Sienna Amelia on Google+.