Sequential numbering on any text file is very important, be it a Word document, PDF files, etc. This is because it is only with Bates numbers or rather say page numbers that it becomes easy for users to locate any particular or concerned writings immediately without hassle. It is known to everyone that numbering text files in Word is no tough task.
But putting Bates number on PDF files is quite troublesome as it is a type of file that that does not allow editing easily. Also editing is a restricted process on most PDF files. Moreover, when there are multiple 'portable document format' files, it gets even more difficult to add page numbers to them.
However, to do so in limited time period without error and in an easy manner it becomes essential to employ any external tool. For the same purpose there exists an application named PDF Bates Numberer by that you can add Bates number to numerous PDF files all together. This review is for the same software application version 3.5.
The upcoming sections in the review bring out all the particulars about the software application. The specifics include necessary system requirements, how it works, activation minutiae and chief features. These details have been included so as to give users a broader picture of the utility so that making use of the application becomes quite easy for them and that they have no doubts regarding it.
Tool Niceties
Name: PDF Bates Numberer
Basic Functionality: Generate Bates Number on PDF file(s)
Release: 3.5
Size: 5.4 MB
Demo Edition: Available
Full Version: Offered in Three Modes
Characteristics
Adds Bates number on numerous PDF file(s) pages all together at a time.
Puts Bates number sequentially for files based on amalgamation of documents.
Generates page numbers on to PDF file(s) and allows their printing as well.
Adds Page numbers on encrypted PDF files nevertheless by first removing the encryption.
Renders option to add prefixes and suffixes along with page numbers on the pages in PDF files.
Provides several choices of formatting such as font color, font size, etc. for adding Bates number to portable documents.
Secured with two strong anti-malware software applications that are Norton and McAfee.
Adobe Acrobat installation is not required for putting page numbers on PDF files.
Demo Facility for Assessment
A trial version of the software has been developed so that users can check the functionality of the PDF page numberer software on their own. They do not have to believe just on reviews or things promised by the developers. And as the demo edition is available free of cost users do not have to mind its charge for examining it. However, the restriction is that he trial release puts a watermark on the resultant PDF files, with page numbers stamped on it.
Licensed Edition for Full Usage 
The full version of the software is available in three licensed forms to avail complete facility without limitation of any watermark on the PDF pages. The three types have been developed to suit users and purposes of different types like home users for personal use, official purpose, businesses and enterprises. The licensed editions can be purchased either online or through resellers that exist in users' nearest location.
Personal Activation Key for 129 USD
Business Activation Key for 229 USD
Enterprise Activation Key for 599 USD
Essential Requirements
Only Windows operating system and none other is a must have feature on the execution machine.
Processor should be of 1 GHz. However 2.4 GHz frequency is recommended for smooth functioning.
Minimum RAM specific is 512 MB. But 1GB is suggested for proper functioning.
Minimum space of 15 MB is required on the hard drive of the Windows machine.
Pre-requisites
If Window Vista, 8.1, 8 or 7 versions is being used then the application must be launched as 'Run as Administrator'.
It is mandatory to have Adobe Reader installed on the Windows machine on which the utility is to be run.
Supported Editions
MS Windows versions: 2000, 2003, 2008, Windows XP, Win Vista, Windows 7, 8, 8.1, Windows server 2008/2012 (both 32 & 64 bit).
Adobe Reader: All releases of Adobe Reader are supported by the PDF page numberer tool.
How Tool Functions?
To obtain correct results as described above in the review, from the Bates Numberer tool it becomes essential to run it properly. Hence, the present segment familiarizes users with the procedure in a step by step manner so as to avoid any kind of unwanted situation. However, the entire working of the utility can be summarized in four steps that are: Open, Select, Preview and Convert.
The very first step is to download and install the application onto any Windows system, irrespective of version.
The second step is to run it by going into Start >> Programs >> PDF Bates Numberer.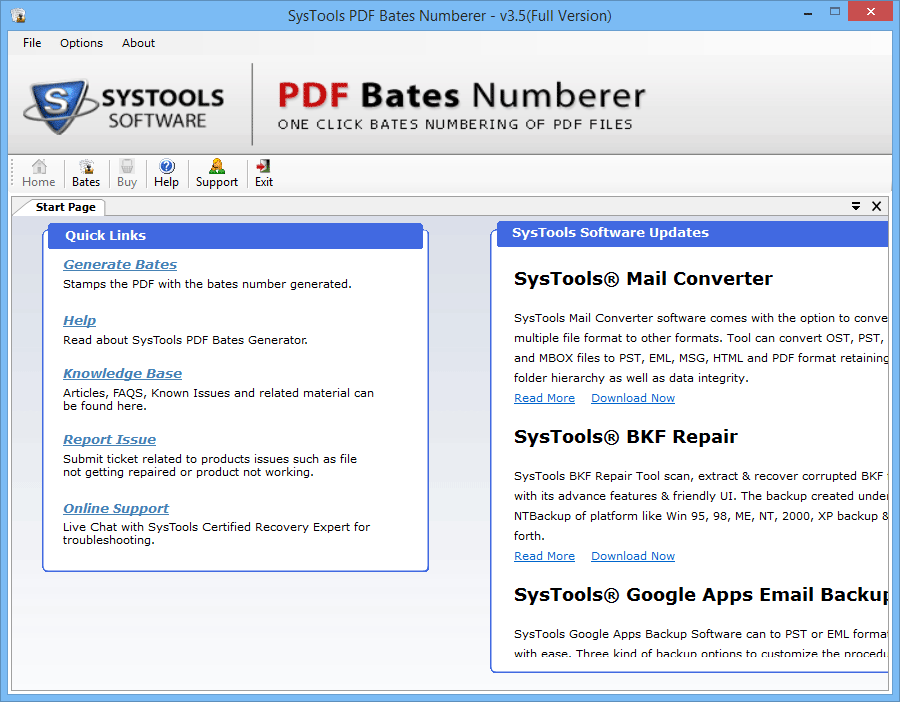 When the initial window of utility comes up on the screen PDF file or multiple files (as the case may be) must be opened by clicking on the Bates tab, which is located at the top of the panel.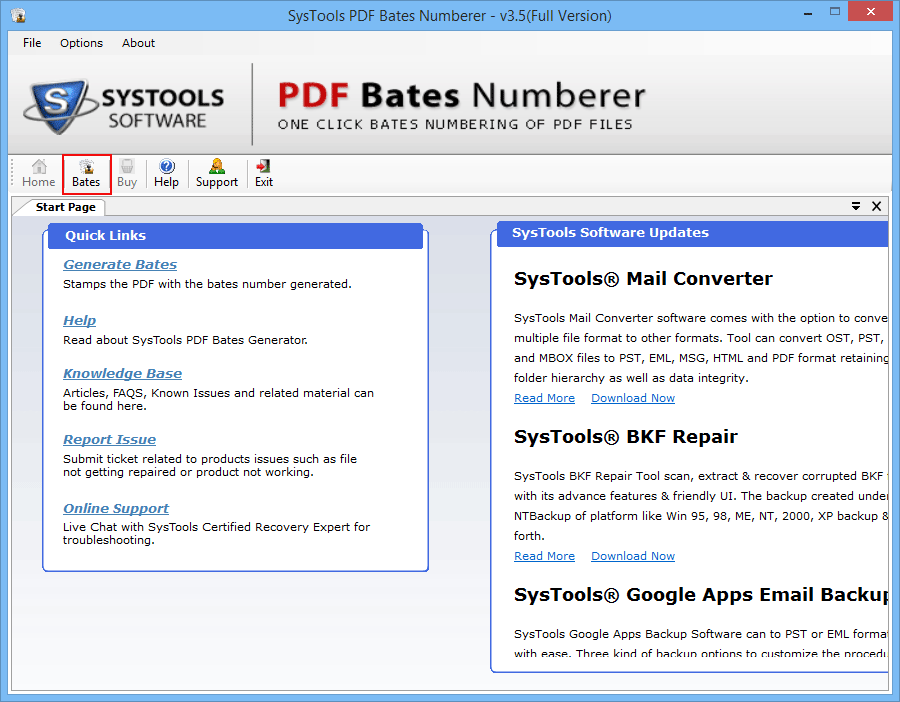 Then the PDF file on which Bates number has to be stamped must be selected.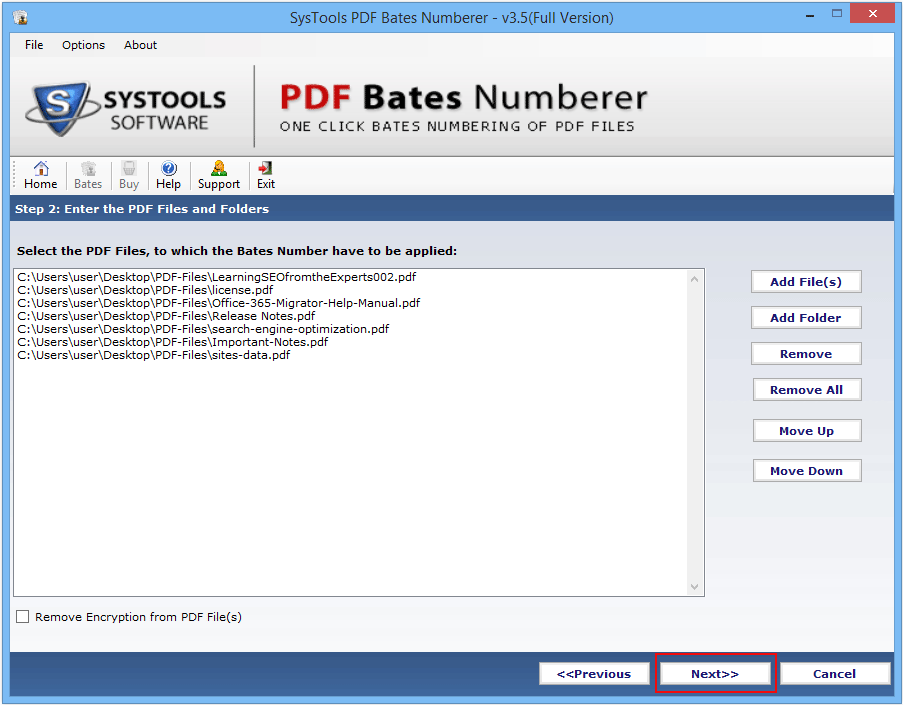 The next step is to adjust the formatting of the page numbers such as position, font color and size, etc.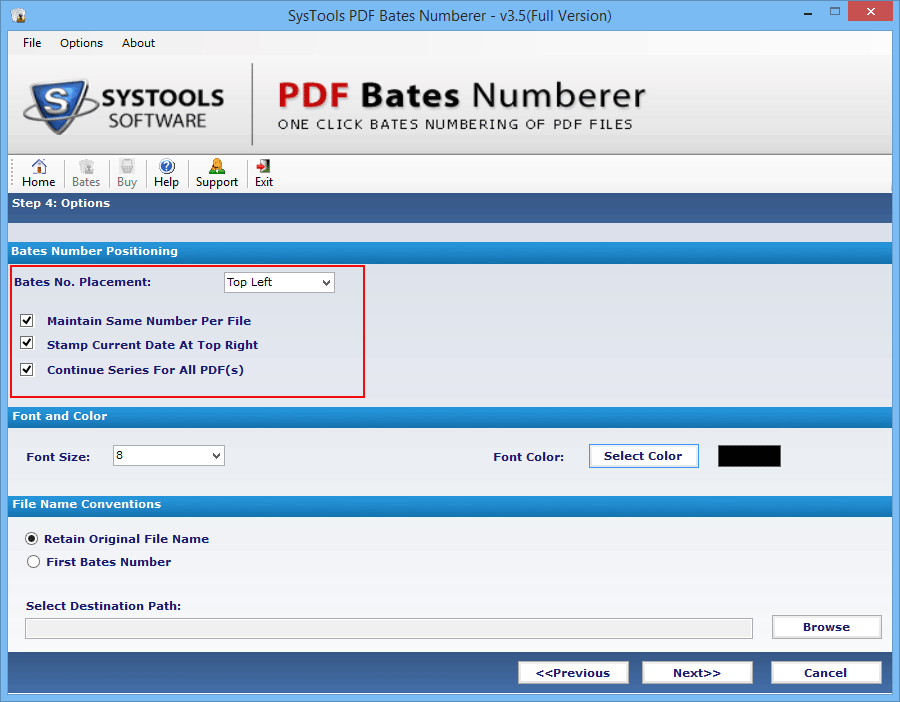 Once the settings get completed a summary report of the formatting is displayed on the screen.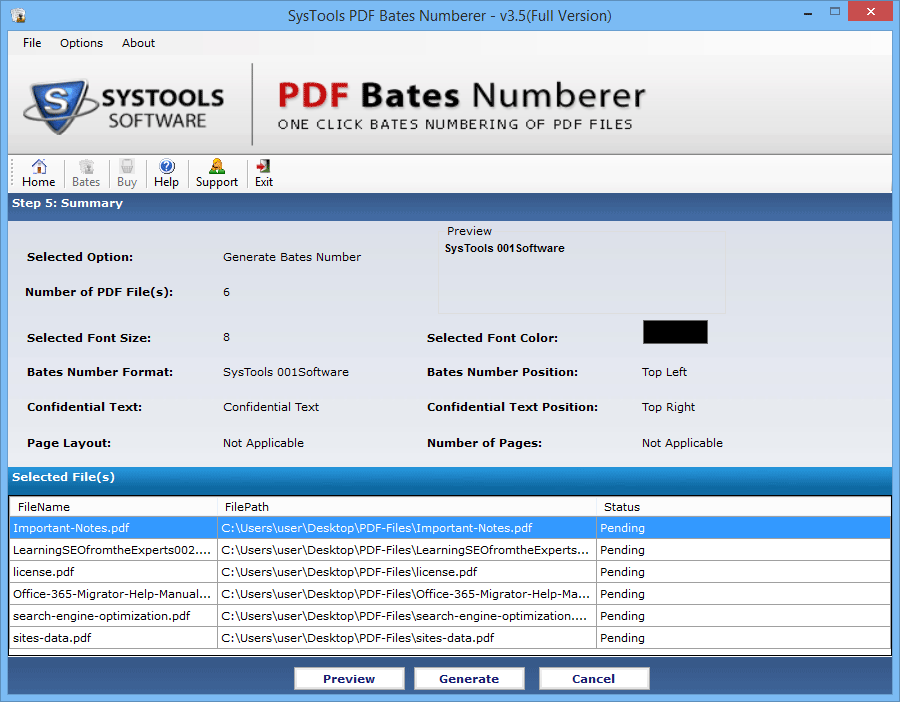 Thereafter, tab Preview can be clicked upon to get a preview of the PDF file(s) with page numbers added on to them.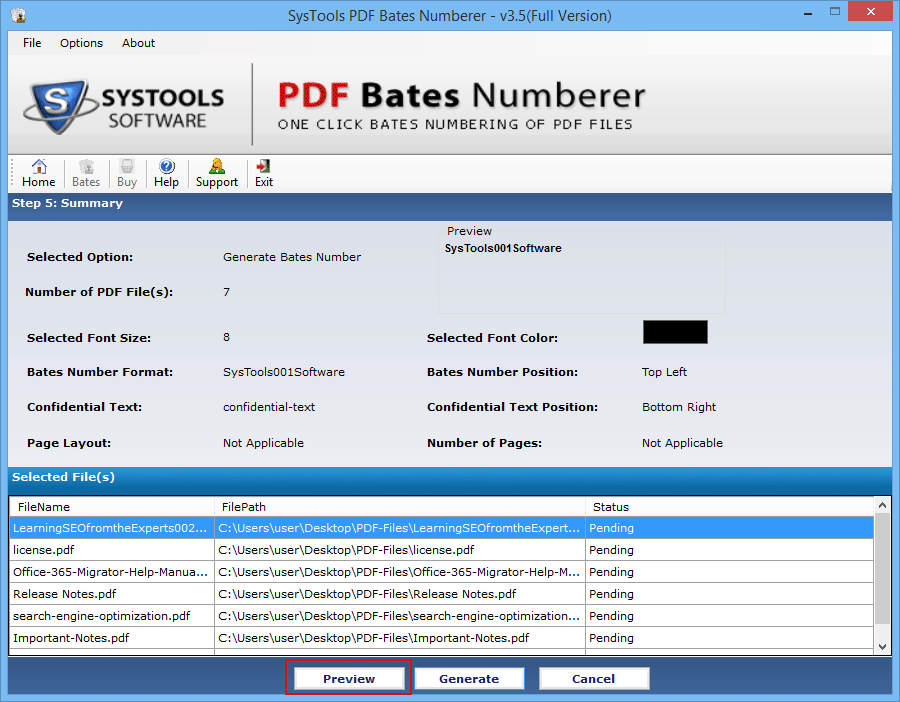 Finally, the button Generate must be clicked upon to start stamping of page numbers on the PDF documents.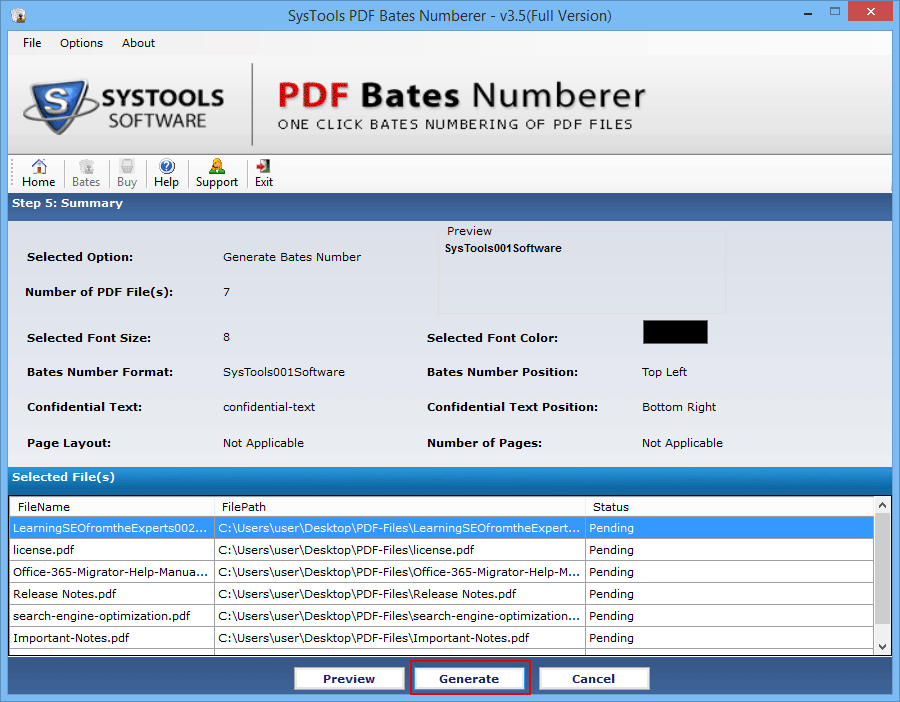 Final Performance Report
It can be concluded that PDF Bates Numberer tool is an outstanding application that has the ability to generate page numbers on PDF files created by Adobe Acrobat. The most significant feature is that it can put on Bates number on multiple PDF files at once. This makes the process quite quick, easy and suitable for home as well as professional users.