Zoutons.com is your one-stop solution for saving money with free coupon codes & online discount deals. This website has many coupon codes to your most loved stores, a fabulous choice of discount coupons and discount deals.
Discount coupons are the coupon site's main attraction and this website has large collection of new discount coupons and discount deals. You can search your required coupon codes and discount deals through categories, top stores or top brands. Also you can search your specific store discount codes and deals by a powerful search engine available on top of the website.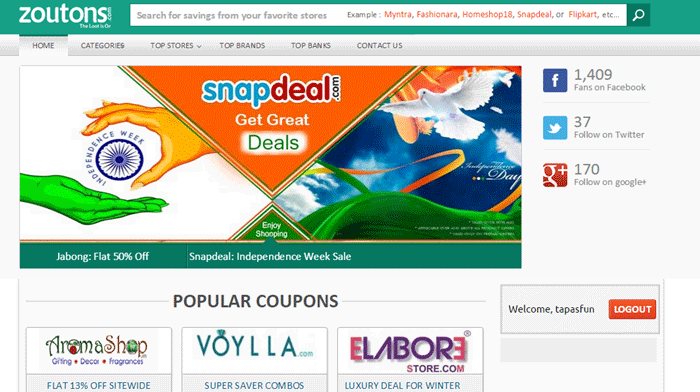 Zoutons is an intelligent coupon site. After you utilize a coupon code, you can vote for it, by the coupon thumbs up or down. Also you can share these coupons with family and friends via Facebook, Twitter and Google plus.
Like most coupon codes websites, Zoutons also has a large selection of coupons for national and regional stores like Myntra, Snapdeal, Flipkart, Amazon, Basics Life or Lazycrazzy etc. Before heading off to a department store, we recommend that you check this coupon website first to find extra discounts that you can apply to your online purchase.
Also you can subscribe for email alerts to get general email newsletters with new discount codes updates and hot deals.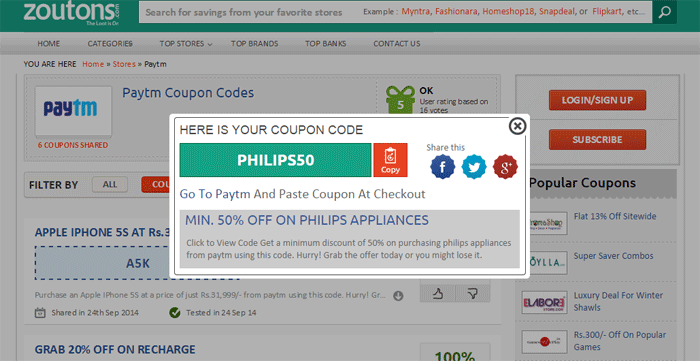 This site and the features of this site are easy to use. Unlike the majority of other online coupon services, is also void of banner ads and extraneous links. We love the clean, fresh lines and the muted colours of the site itself, and we are most in love with the Homepage coupon display complete with an image and linked with all coupons codes from the brand or store.
Never used a coupon code before? Zoutons makes sure that you know exactly how to use the coupon on your favourite site to save big. You can click on "Using a Coupon" link under the help section locate on the website footer. A new page will open with a simple but detailed two-step instruction.
If you want to save more money in online purchase, Zoutons.com is an excellent source for you. ‫So happy saving on online shopping.