iPhone 8 and iPhone X are going to be the next big trend in the world of technology. Apple has covered a long journey in the last ten long years to introduce some of the best gadgets. However, like all other previous mobile models from Apple, the new iPhone will also need some apps to give you its best functionality. Here we have tried to populate a list of some of the best apps that you can run on your 2017 iPhone for making the most of it, especially for new iPhone users. Just remember to choose the ones that fit your needs. Let's take a look.
Flixster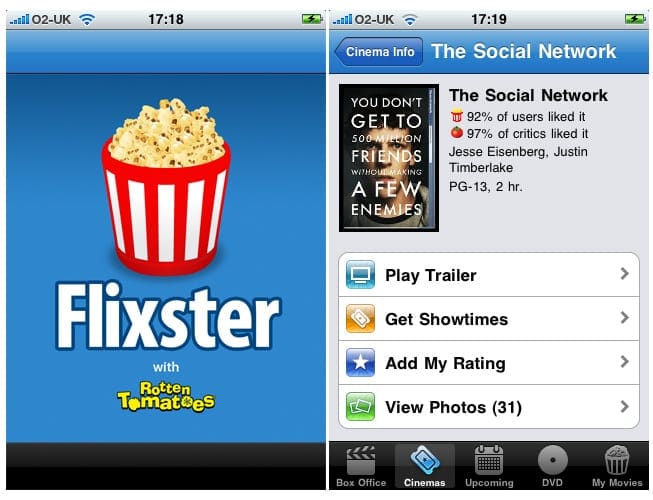 Flixster is not just any other movie application out there; it gives you something worthy of your latest handheld device. It is true that it gives you a list of movies and their ratings besides their plots and the theatre show-times, it also gives you some additional features like social integration and ratings at Rotten Tomatoes. Flixster comes as a well-designed and clear application that is quite efficient when it comes to providing you with the information that is needed for making your movie decisions as well as for easily buying tickets. In fact, you can use the app for watching movies as well but you will have to buy them first.
Weather Underground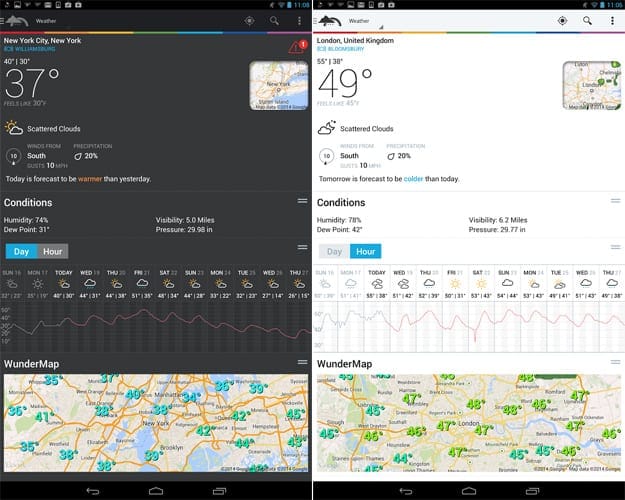 It is one of the best weather apps for iPhone in 2017. The best thing about this app is that it only does what it is best at i.e. presenting you with so much hyper-local info in a highly customizable and simple interface. The app is so rich in data that it has to offer and manages to keep those info-hungry meteorology enthusiasts fully satisfied.
Awesome Note (+ Todo)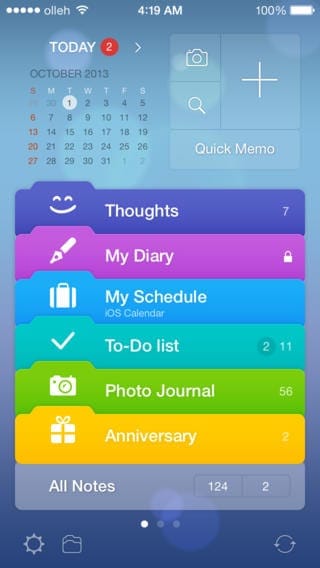 Just as its name suggests, the Awesome Note (+ Todo) app allows you to create notes as well as to-do lists on your new iPhone. Among all apps available for the personal organization on mobile devices from Apple, Awesome Note gives you the most visually appealing interface and allows for personalizing the look by selecting which colors, fonts, icons, and background images you'd like to use with your notes. You'd love it when you get to play around with all the available options and the graphical calendar of the app while being productive at the same time.
Google Docs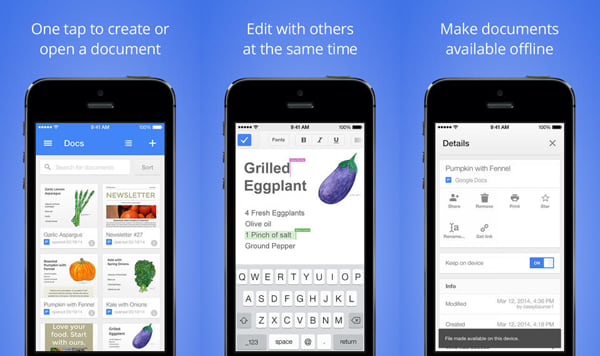 Those who use Google Drive often can be able to have access to all their files using the Google Drive application. However, the Docs application will be needed for editing those documents or creating new Word documents on your iPhone 8. The productivity suite from MS office is completely free and any documents that you will create with the help of Google Docs do not really count in the overall storage allotted to you in Google. So, that's quite a good deal overall.
Ifttt – If this, then that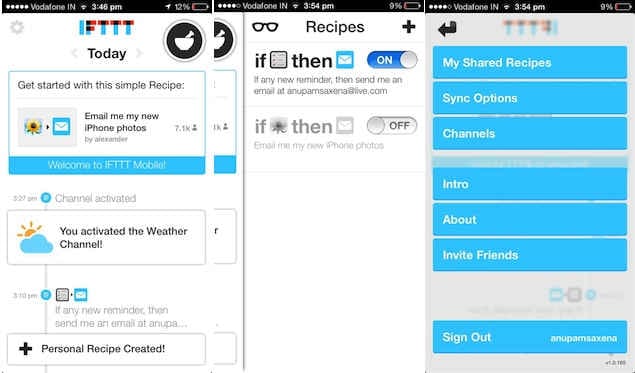 What kind of name is that for an app, you may be wondering. Right? Well, you might have heard the tag "If this, then that" and Ifttt is just the shortened form of that tagline. One of the best apps available to iPhone users, Ifttt is an amazingly simple and powerful app that can automate almost anything that you want in the digital world. For instance, if a new contact is added to Gmail, then the app will save the contact information of that person to your Evernote account as well. If you're headed towards a smart home, you'd want to have Ifttt with you right there on your smartphone because it will allow you to manage quite a few different devices. Another example of that is as soon as you get into the smart bed in your bedroom, the app will turn your room's lights off without you having to do anything at all.
Dashlane
Dashlane is the password manager that helps you to keep all your login details at your fingertips. It allows you to use TouchID as an authenticator on your iPhone 5s, 6, and 6 Plus. If you're running iOS 8 on your iPhone, the app can communicate with different other applications on your device and makes log-ins easier for you. If Dashlane doesn't sound too familiar, it is your password manager for both your mobile and desktop apps and helps you by syncing your passwords among all the devices. Besides, it makes sure that all the username/password combinations that you use remain safe. With Dashlane, you can also generate some strong passwords as well. And, just like other password managers, you just have to take care of only one password for unlocking the Dashlane account and all other passwords can be found inside. So, overall, it gives quite a lot of wonderful functionality.
Dropbox
If you have your files scattered everywhere – your home desktop, office computer, laptop – you are in dire need of reliable syncing software that can keep everything updated in just one place and you can access your stuff from there. Dropbox is your cloud-based storage that keeps all your files and folders in cloud storage, giving you access to them from just about anywhere. The Dropbox app for iPhone gives you access to all your stuff right from your smartphone anytime, anywhere. The mobile app gives you a simple and straightforward interface with easy uploading options. Besides, you can sync your stuff swiftly across all devices and accounts.
Also read: Android 8.0 Oreo Vs Apple iOS 11 – Which One's a Deal Breaker.
You can pick a few of the above-mentioned apps for giving new life to your iPhone. The phone itself is like never before and the apps mentioned above can take it to the next level for sure. So, use your new iPhone at its best with these wonderful and functional iPhone apps.