Online Graphic design:
Due to the inventions and growth of information technology, internet users are switching to get benefits of many tasks online including graphic designing without installing any software. With several online available visual design tools and models, it is easy to create an awesome graphic design online in just a few minutes. The users get instant access to the online tools just after creating an account. In a few steps, the user can design anything with an internet connection. One of those available online Graphic design services is DesignCap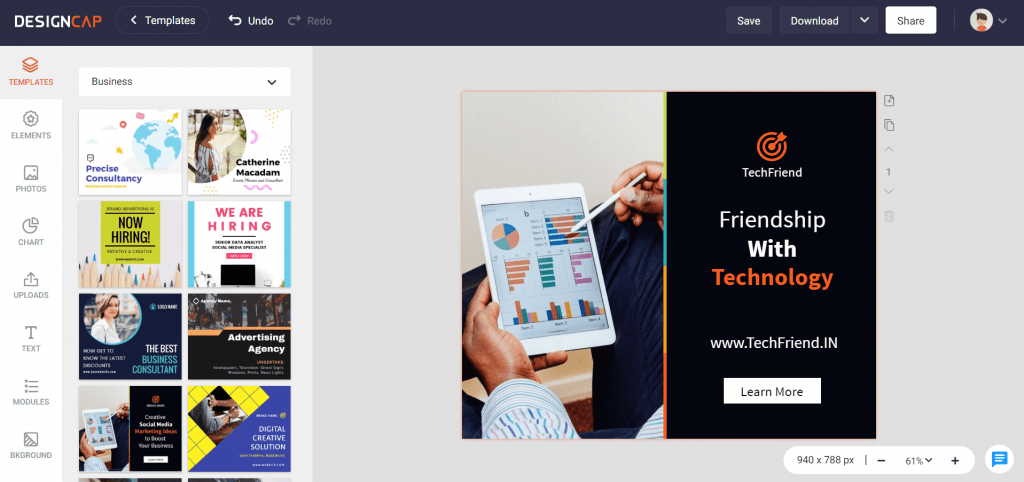 What is DesignCap
"DESIGN CAP" is the best website that is providing online graphic design access to all users from the world for professional image designing and editing without downloading or installing any software in the system. This online graphic design software helps everyone to create professional designs with available options to get more attention and improve learning skills.
Available Features and Categories
The online Design Cap tool facilitates every user to create the following professional designs:
The templates required for marketing purposes like brochures, flyers, posters, presentations, business cards, reports, and logos, etc. The user can easily choose any of these default templates and designs according to his/ her requirements to give it an attractive touch.
The online graphic design tool also provides different templates for social media graphics like they can quickly develop an artwork for YouTube channel, design Facebook Cover, YouTube Thumbnail, Twitter Headers and Email headers, etc.
The user can design social media posts for Facebook, Instagram, and Pinterest through this online software.
One can easily create Invitation cards through Design Cap with simple steps.
Flexibility of DesignCap
Since the DesignCap has experienced the skill and knowledge of professionals and provided access to a vast built-in database, so it facilitates users with thousands of quality templates with an extensive collection of shapes, styles, and illustrations. This online platform is flexible in such a way that if anyone has enough knowledge, then he/she can quickly gain skills without difficulty to generate a professional design.
Required Information of Users
The users are required to register along with the creation of an account after submitting their personal information.
The users can get benefits from the paid services of DesignCap to create the design from Premium templates. For this purpose, the user provides complete payment information.
The website also reserves the right to collect information regarding the device, browsing ways, and preferences.
There is a log-in option through third-party services like Facebook, Twitter, Google Analytics, and Pinterest. So, the user can also synchronize his/ her account with those services to get information directly from these platforms.
Privacy Policy of Design Cap
DesignCap never sells or shares the personal information of the user with any other party for a direct purpose like marketing unless the user itself allows receiving promotional offers and deals. However, the company reserves the right to share personal information with a few trusted partners if required. For example, the credit card details of the user can be shared with the payment processor to make ease for purchasing or renewal of services in the future.