How do you access all Yahoo! services, Directly?
Well, you can access most of these services from links located somewhere on Yahoo!'s homepage—if you can find the right link. If you can't find a link to a particular service on the home page, scroll down to the bottom of the page and click the Even More Yahoo! link. This takes you to a page that lists every site and service that Yahoo! offers.  Use the Direct Address Even better, almost every Yahoo! service has its own unique URL that you can enter directly into your browser's address box, or bookmark as necessary. You might think that remembering dozens of unique URLs would be difficult. And, of course, you'd be right—if you actually had to memorize the URLs.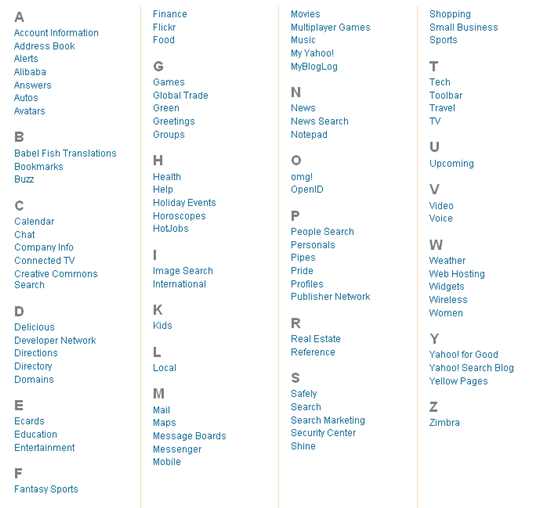 Fortunately, Yahoo! uses an address scheme that's easy on the old memory, thanks to its common-sense nature. Yahoo!'s address scheme is simple. Just take the yahoo.com domain and add the service name in front of it, like this: service.yahoo.com. So, for example, if you want to go to Yahoo! News, you enter news.yahoo.com. If you want to go to Yahoo! Mail, enter mail.yahoo.com.
The only major exception to this rule is the children's site Yahooligans!, which has the address www.yahooligans.com.
Still too much to remember?
Then consult the address list below, where I did the hard work for you:
Yahoo!  Website Directory            Yahoo! Site/Service URL
Yahoo! home page                                          www.yahoo.com
Yahooligans!                                                     www.yahooligans.com
My Yahoo!                                                          my.yahoo.com
Yahoo! Address Book                                    address.yahoo.com
Yahoo! Astrology                                            astrology.yahoo.com
Yahoo! Auctions                                              auctions.yahoo.com
Yahoo! Autos                                                    autos.yahoo.com
Yahoo! Banking Center                                  banking.yahoo.com
Yahoo! Bookmarks                                          bookmarks.yahoo.com
Yahoo! Briefcase                                               briefcase.yahoo.com
Yahoo! Buzz Index                                           buzz.yahoo.com
Yahoo! by Phone                                              phone.yahoo.com
Yahoo! Calendar                                               calendar.yahoo.com
Yahoo! Chat                                                        chat.yahoo.com
Yahoo! Classifieds                                            classifieds.yahoo.com
Yahoo! Companion (toolbar)                      companion.yahoo.com
Yahoo! Education                                             education.yahoo.com
Yahoo! Entertainment                                    entertainment.yahoo.com
Yahoo! Fantasy Sports                                    fantasysports.yahoo.com
Yahoo! Finance                                                  finance.yahoo.com
Yahoo! Games                                                     games.yahoo.com
Yahoo! GeoCities                                               geocities.yahoo.com
Yahoo! Get Local                                               local.yahoo.com
Yahoo! Greetings                                               greetings.yahoo.com
Yahoo! Groups                                                    groups.yahoo.com
Yahoo! Health                                                      health.yahoo.com
Yahoo! HotJobs                                                  hotjobs.yahoo.com
Yahoo! Insurance Center                                insurance.yahoo.com
Yahoo! Launch (music)                                    launch.yahoo.com

Yahoo! Loan Center                                           loan.yahoo.com

Yahoo! Lottery Results                                     lottery.yahoo.com

Yahoo! Mail                                                           mail.yahoo.com

Yahoo! Mail Plus                                                 mailplus.yahoo.com

Yahoo! Maps                                                          maps.yahoo.com

Yahoo! Message Boards                                    messages.yahoo.com

Yahoo! Messenger                                               messenger.yahoo.com

Yahoo! Mobile                                                       mobile.yahoo.com

Yahoo! Movies                                                      movies.yahoo.com

Yahoo! News                                                         news.yahoo.com

Yahoo! PayDirect                                                paydirect.yahoo.com

Yahoo! People Search                                        people.yahoo.com

Yahoo! Personals                                                 personals.yahoo.com

Yahoo! Pets                                                            pets.yahoo.com

Yahoo! Photos                                                      photos.yahoo.com

Yahoo! Picture Gallery                                     gallery.yahoo.com

Yahoo! Products Search                                   products.yahoo.com

Yahoo! Real Estate                                             realestate.yahoo.com

Yahoo! Shopping                                                 shopping.yahoo.com

Yahoo! Small Business                                      smallbusiness.yahoo.com

Yahoo! Sports                                                      sports.yahoo.com

Yahoo! Store                                                          store.yahoo.com

Yahoo! Tax Center                                               taxes.yahoo.com

Yahoo! Travel                                                       travel.yahoo.com

Yahoo! TV                                                               tv.yahoo.com

Yahoo! Wallet                                                       wallet.yahoo.com

Yahoo! Weather                                                  weather.yahoo.com

Yahoo! Web Hosting                                          webhosting.yahoo.com
Hope these links will help you for easy access yahoo! services. So share any enjoy with friends…………