Sometimes, the functional process of running a fleet business turns out to be arduous. And when you fail to set smart benchmarks and track metrics, you lose your game.
Don't worry, you're not the only one.
Fames Transport, a United States Postal mail contractor felt the same way. But they revolutionized their business operations by overhauling their traditional operations and delved in to set tangible benchmarks.
They leveraged Samsara's fleet management solutions since the company's state of the art technology proved efficient to solve all their pain points in one go.
They used Samsara's VG-series gateways and CM-series dash cams to upscale their function across their sixty semi-trucks fleet.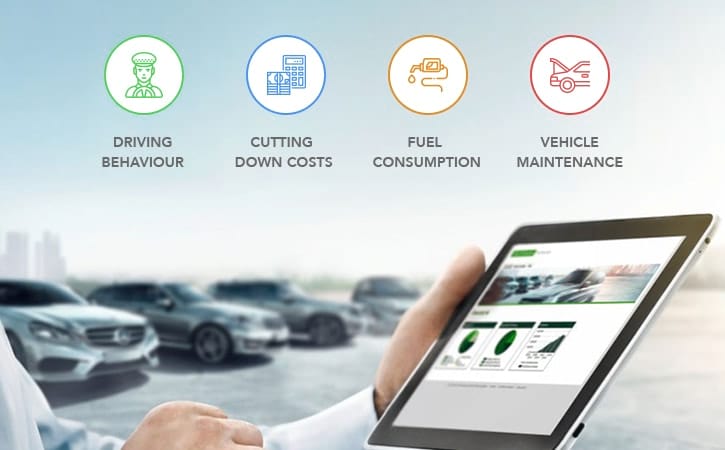 When they measured the results, they'd improved their overall fleet safety through close monitorization of drivers' behaviors. Thanks to Samsara's AI-powered dash cams! Besides, they saved plenty of time by eliminating handwritten time cards and also improved payroll efficiency.
All this, when translated in fiscal figures, showed that Fames Transport was saving $4,000 per day.
Surprising right?
But it all started with the term 'metrics'. And of course, the meticulous and timely implementation of telematics. You can also find out more about dash cam to understand how it can upscale your fleet operations.
It's time that you understood their importance to embrace 'em, and thereby, optimized your fleet business like Fames Transport.
Let's get started then!
Defining Metrics and Benchmarks
Before you are enlightened about the importance of metrics and benchmarks, you must know what these terms mean.
So, here you go.
By definition, "Metrics are measures of quantitative assessment commonly used for assessing, comparing, and tracking performance or production".
In simpler terms, you just ask the following questions:
What are you doing?
How well are you doing what you are doing?
How do you know how well you are doing what you are doing?
How can you illustrate to your colleagues how well you are doing what you are doing?
As for benchmarks, they are the standard points of reference against which things may be compared.
In your case, your benchmark would be your fleet competitor. You'd analyze his metrics and use him as your benchmark to level up your business.
Now that you know what these terminologies mean, let's probe the importance of setting metrics and benchmarks for your fleet business.
Importance of Setting Metrics and Benchmarks
There's only one surefire way to optimize your fleet business – and that is through metrics. Only when you track your metrics, you would be able to understand where your company is failing to thereby improve its overall results.
You can align your fleet drives and your functionalities with the help of metrics. You can measure your financial performance and keep your cash flow healthy.
This would give you the chance to provide an actionable means of achieving your overall business goals. What's more, by understanding your highs and lows, you'd be able to instruct your employees about what's important to the business with guidance on how to bring them to pass.
Only when you measure your fleet business against a standard benchmark, you would be able to highlight any operational issues that might go otherwise unnoticed. This way, you'd be able to boost your efficiency and productivity.
All this summed together, it simply means more revenue and cutbacks on losses.
Cool, right?
Let's now tell you some important metrics that you can't afford to miss measuring.
Top 3 Metrics to Optimize Your Fleet Business
1. Customer Service
When you track the deployment of services of internal customers, it not only reflects as a good business practice but also increases your fleet's efficiency.
And here are some metrics that you should track in customer service levels.
How long does it take your customers to answer your incoming calls
What's the rate at which calls they drop your calls before answering
How long does it take for you to respond to their problems or  requests, starting from the initial contact to the final resolution
Besides these metrics, you can endorse follow up e-mails to your customers, asking them to rate your services on a scale of one to five. Doing this will help you to enhance your internal service deployment standards.
But at the end of the day, it's your customers who can measure your service levels. So, always be prepared to learn your pluses and minuses from them.
2. Accident Rates
You might incur costs from various sources, but you'd do well to stay away from accident costs.
So, on a strategic level, you need to measure your accident rates. The more the accidents your company has, the more your expense.
So, find out how you can reduce your accident rates. Implement technology in the likes of AI-powered dashcams and vehicle GPS tracker. This way, you'd have the evidence of the accident while you'd also be in the position to send timely help.
Otherwise, leaving your fleet unmanaged can result in about 20% accidents, subjective to the number of vehicles in your fleet. That is, if you own a 1,000-vehicle fleet, then there will be 200 accidents.
So, if you assume that your fleet undertakes travel of about 24,000 miles in a year, then your accident metric would be 8.3 per million miles of distance covered. And that would be your benchmark against which you would measure your future performance in terms of fleet and driver safety.
3. Fleet Costs
This is the most important metric to ever track. And again, the fleet cost comes in various forms such as the following:
Departmental cost per vehicle
Vehicle value depreciation
Fleet fuel cost
Cost per accident
Lifecycle cost
Keeping a close eye on these five costs would help you cut back on wastage spending and optimize your fleet efficiency.
Act Now!
You've now learned why it is important to set metrics and benchmarks in your fleet business. Besides, you also know the top three metrics that must be measured to optimize your business.
It's not time you put this knowledge into action. But if you need help, feel free to ping Samsara. Just like how they helped Fames Transport, they'd be very excited to help you.