All Windows versions come with some amazing hidden features and functions. In this series, Windows 10 is equally useful when it comes to some amazing tips & tricks to improve system performance. Let's discuss top 7 tips for Windows 10 user in this article.
Virtual Desktops: Task View which is also known as Virtual desktops (VD) on Windows was included with Windows 10 as a mainstream feature. It helps users improve productivity. It allows you to have many virtual desktops on your system as per your needs. Further, there are plenty third-party VDs as well, but native VD on Windows 10 definitely offer better stability and accessibility. You can add VD on your Windows 10 by tapping on the Task View icon to the right of the Cortana bar on the Taskbar. Now select "+New Desktop" option in the bottom right corner to add the virtual desktop. You can move any application to this new desktop by simply dragging it into the virtual desktop in the bottom.
Source: zdnet
Shake to minimize: This is an interesting tip that allows you to minimize all your desktops instantly with a shake of your mouse. To do this, simply shake your mouse and it will grab a window by its bar to minimize it. It will automatically minimize other windows as well.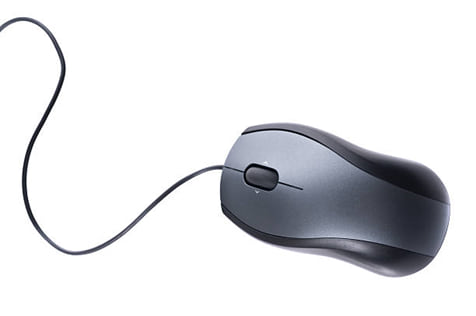 Source: istockphoto
Quick tip: Some reports suggest Windows 10 doesn't require registry cleaning process. Despite that, you can keep your system registry clean for improved system performance.
Record screen with Xbox app: Have you ever wondered how to record a screen on Windows 10. Well, the answer is simple! Windows 10 allows you to record a screen with Xbox app. To do this, first launch the Xbox app and go to the app that you want to record. Press Windows + G and it will prompt a window with message "Do you want to open the Game bar?". Tap on the "Yes, this is a game" option to start the recording.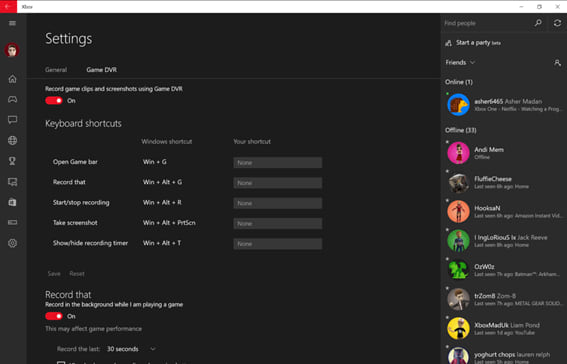 Source: windowscentral
Automatic Battery Saver mode: Windows 10 comes built-in with automatic battery saver mode. It automatically activates battery saver mode when your portable device battery is lower than 20%. It usually manages and limit activities in your system background and manage push notifications as well to extend battery life. You can head to Settings > System > Battery Saver to customize which apps you want to run in the background and to manage other activities.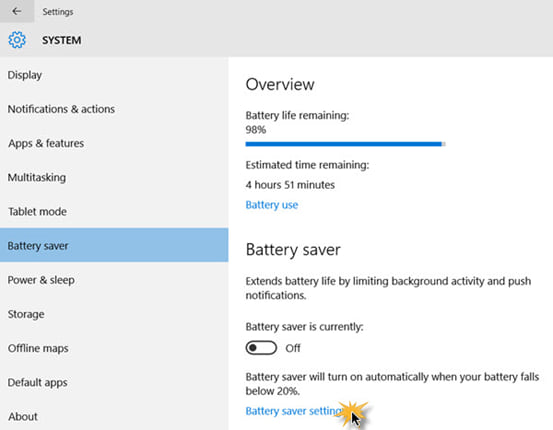 Source: thewindowsclub
Enable Cortana on the lock screen: This quick feature allows you to command Cortana even when your device is locked. Using this feature, you can command Cortana to search contacts, play music, search document, create reminders, show weather details or do much more. It usually works on commands by natural language which is again useful for quick task completion. You can enable this feature, by heading to "Cog" icon on your system > Settings > Use Cortana even when my device is locked. It will help you command Cortana anytime you want on the locked device.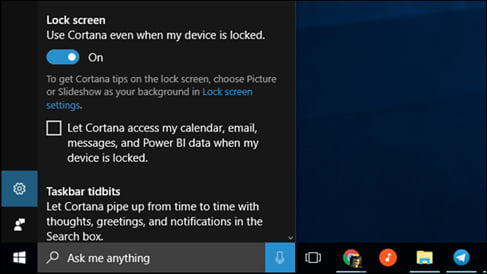 Source: howtogeek
Get Faster Updates with P2P: If you feel worried about regular updates on your Windows 10 system then peer-to-peer tech can help you fix the problem. It allows you to ascertain all updates on your system are downloaded and installed quickly and efficiently. To enable this feature, head to Settings > Updates and Recovery > Windows Update > Advanced Options and choose the way updates are delivered on your system and enable "Updates from more than one place". It will allow the system to access all updates from both Internet and local network.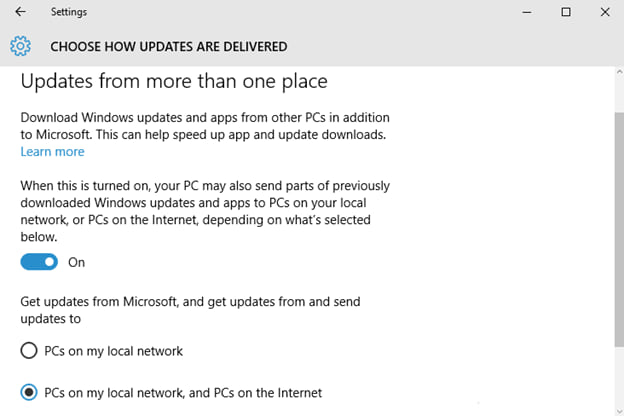 Source: techjourney
Windows 10 Keyboard Shortcuts: If you prefer keyboard shortcuts to mouse clicks then it can help you perform tasks quickly and efficiently. Like any other Windows version, Windows 10 also comes with various keyboard shortcuts to help you perform different tasks quickly. Let's discuss some of these useful keyboard shortcuts here.
Open Cortana in listening mode: Windows key + C
Open the Share Charm: Windows key + H
Open the Connect quick action: Windows key + K
Switch between virtual desktops: Windows key + Ctrl + Left or Right arrow
Close current virtual desktop: Windows key + Ctrl + F4
Temporarily peek at the desktop: Windows key + Comma
Minimize all but the active desktop window: Windows key + Home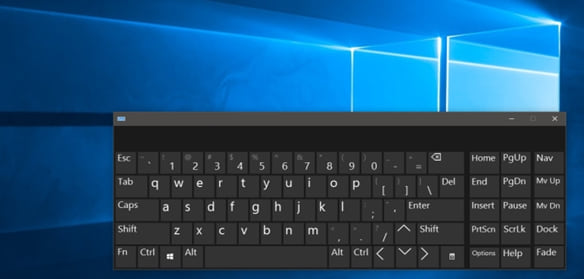 Source: techworm
Conclusion: Following some interesting and effective tips & tricks on Windows 10 you can improve its performance significantly. It will also help you save time and reduce manual efforts. Above mentioned tips are meant to boost your system performance.