The world of technology is rapidly evolving, and the type of tech jobs available today may be obsolete by 2023. So what kind of tech careers should you start thinking about if you're looking for a future-proof IT job? Look no further! We've put together a list of the top 5 tech careers for 2023 that will guarantee your employment in the years ahead. Read on to find out which ones are worth considering!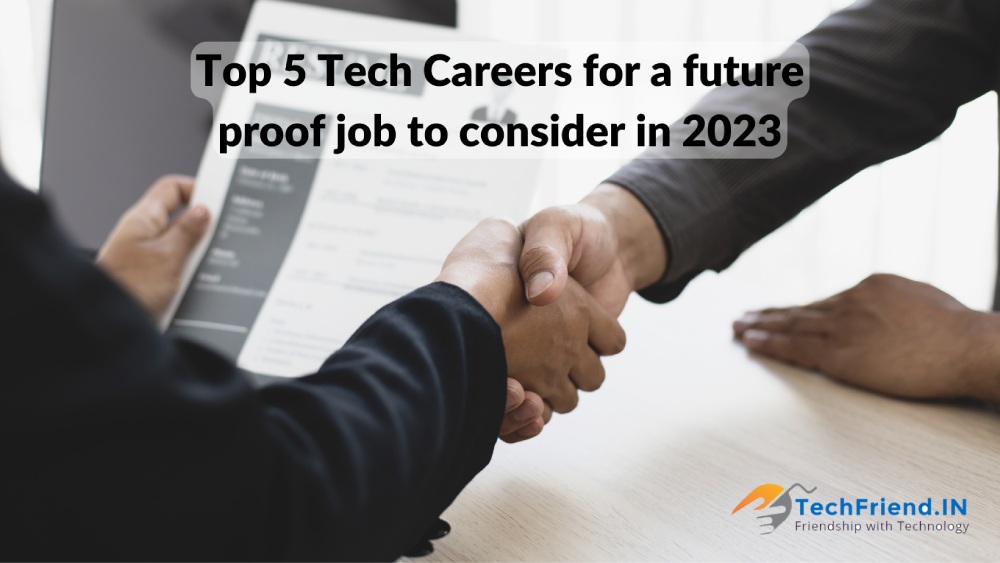 Who should choose a career in technology?
Technology is currently one of the most in-demand careers, and for good reason. As the world becomes increasingly reliant on digital solutions, the need for qualified professionals who can develop and maintain new products and services is growing fast. From artificial intelligence to computer programming, there are many tech career options that could be a great fit for someone looking for a secure job.
If you are interested in technology and have a passion for developing cutting-edge solutions, then you should seriously consider a career in technology. With an ever-changing landscape of emerging technologies such as blockchain, machine learning, and data analytics, there are ample opportunities to find success in this dynamic and rapidly evolving profession.
The growth of the tech industry is unstoppable, and with technology advancing at an accelerated rate, there's no doubt that tech jobs will remain in high demand. In 2023, many new and exciting job opportunities exist in technology. Whether you're looking for a career change or interested in exploring new directions, here are five of the best tech careers to consider.
Top 5 Tech Careers for a future proof IT job:
Whether you're a seasoned tech professional or just starting out in your career, here are five of the most future-proof and promising technology jobs for 2023.
Artificial Intelligence Developer: AI has become ubiquitous, with applications ranging from autonomous vehicles to facial recognition to medical diagnostics. As AI continues to proliferate, skilled AI developers who understand how machines think will be highly sought-after. Properties such as programming language proficiency and problem-solving skills are essential for those considering this profession.
Machine Learning Engineer: If you're looking to stay ahead of the curve with the latest AI advancements, then this may be the right career path for you. As an ML engineer, your primary duties include developing algorithms that enable machines to solve complex tasks through supervised or unsupervised learning methods. This is an incredibly fast-growing field with vast opportunities available due to its increasing demand amongst large tech companies such as Google and Microsoft.
Cybersecurity Analyst: Professionals who specialize in protecting software systems from malicious attacks or unauthorized access have an abundance of opportunities available since cyber threats continue to increase year after year. A mix of technical knowledge and business acumen is ideal for this field; experience with security protocols such as firewalls and encryption is preferred.
Data Scientist: The big data revolution is transforming how organizations make decisions; teams rely on data scientists' expertise both to collect and interpret large amounts of information and draw conclusions from it that can improve performance, reduce cost or increase efficiency across a variety of functions. Data scientists need both quantitative analytics skills such as database manipulation as well as qualitative problem-solving abilities to thrive in this role.
Cloud Infrastructure Engineer: The ongoing trend towards cloud computing means extensive knowledge about cloud architecture is highly sought after by employers; having a broad understanding of different cloud solutions coupled with know-how on various cloud services can prove invaluable for businesses seeking streamlined operations over distributed IT systems. Candidates should demonstrate technical proficiency when it comes to storage mechanisms like block storage and virtualized servers among other abilities required in this job role.
Automation engineer: Automation engineers bridge together automation technologies like software automation, robotics, machine visioning, etc., which offer businesses greater productivity than using manual labor alone; they play an important management role by taking advantage of automated processes while making sure they're safe, reliable, efficient, compliant, etc., by staying abreast of new developments. Becoming an effective automation engineer requires a good foundation in engineering principles plus familiarity with programming languages like Python or Java.
Software Engineer: Software engineers create and configure the software that powers various products and services we all use every day. They develop and design computer programs and collaborate with product teams to ensure a smooth user experience. They also analyze user needs to modify existing code or create new applications.
Also read A.I Technologies in 2023 going to replace human works
In conclusion, a career in technology can be a highly rewarding and fulfilling choice for individuals with a strong interest in the field and a desire to continuously learn and stay up-to-date with the latest developments. The technology industry is constantly evolving and offers a wide range of career options, from software development and data analysis to cybersecurity and IT support. With the right education, skills, and experience, professionals in the tech industry can expect to have numerous opportunities for growth and advancement in their careers.