Turbo Downloader for Android is a free download manager that's similar to Flashget or IDM. Increase the speed of your downloads by up to 5x times as reported! The First Download Accelerating app in the Android Market! Long Press on a link from your browser => choose "Share Link" => choose Turbo Downloader and the app will start downloading the file.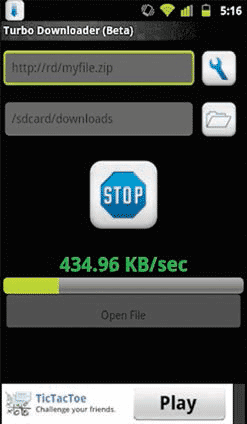 You can pause/resume downloads, and even queue files so they're downloaded later. Optionally, you can also start the application and paste your download links. We have managed to download videos from some video portals using this app. Presently, browsers such as the Miren, UC Browser, Boat browser, FireFox and Skyfire have integrated support for Turbo Downloader. All other apps and browsers need to use the 'share' option to send links to Turbo Downloader.
FULL FEATURES:
Download Acceleration!
Unlimited file size downloads!
Web Browser support (Dolphin, Firefox)
Queue/Pause/Resume/Recover
Multiple Parallel downloads
Up to 10 Parallel Streams Per Download
Buffer size optimization
Configurable Download directory
Add Url links
Start/Pause Queue
Normal/Turbo Mode option
Work in the background
Auto-rename files
Notifications (Visual/Sound)
Single/Multiple Notifications
Download history
Restart Download from history
SUPPORTED BROWSERS:
Android Stock Browser (Long Press and choose "Share Link")
Dolphin HD ("Long press" => "Share Link")
Firefox ("Long press" on a link => "Share Link")
Skyfire ("Long press" on a link => "Share Link")
Miren
UC Browser
Boat Browser (Choose "Open")
For all other browsers that support sharing links try Long Press on a link and choose "Share Link".
** Some Web Servers might not support multiple connections, if so use "Connections per Download" = 1 under "Settings" Or "Long Press" and use "Normal Mode" to download.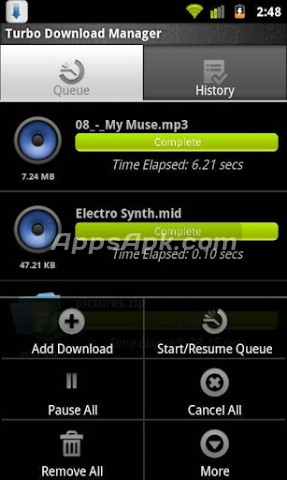 You can Download free Version from here=> Download from Google Play
Download Pro Version=> [social-locker locker_id="8e9c54eb6152dc98b" theme="blue" message="Share this page to unlock this content!" facebook="true" likeurl="CURRENT" google="true" googleurl="CURRENT" tweet="true" tweettext="" tweeturl="CURRENT" follow="true" linkedin="true" linkedinurl="CURRENT"]1 CLICK DOWNLOAD[/social-locker]
Share and Enjoy with TechFriend…………