Once you create your site, you simply complete 25 percent of your task. Next comes is garnering traffic to your site, which is among the daunting tasks. One of the best ways to get traffic comes via search engines. This can be carried out with the help of search engine optimization. Commonly denoted as SEO, it is one of the most effective ways of getting traffic.

The technique involves chalking out a number of strategies, which can help in seducing the bots and algorithm of different search engines, which eventually can help in making your site visible over different search results. If your site is new, you need to start things gradually. Instead of trying all the things together, you are supposed to try out certain and best SEO tips, which we would be discussing as under:
Create & submit the sitemap:
First thing first, create sitemaps and submit them over search engines. The sitemaps simply help the search engines to find out the content over your website, which is really a must for both the new and old websites. Make sure your site conforms to the protocols of the sitemap to find better results. You can find a number of software companies online, which can help in creating sitemaps. In case if you are using WordPress based sites you can easily rely over Google XML Site Plugin in order to make a right sitemap for your WP based site.
Try Social Bookmarking:
The other best way to do this comes via social bookmarking. This simply helps in spreading the word over your site and thus makes the way out to gain the valuable backlink in order to take the right benefit of social bookmarking. Do keep on adding webpage over your site over some of the top bookmarking website like Digg, Stumbleupon and Delicious.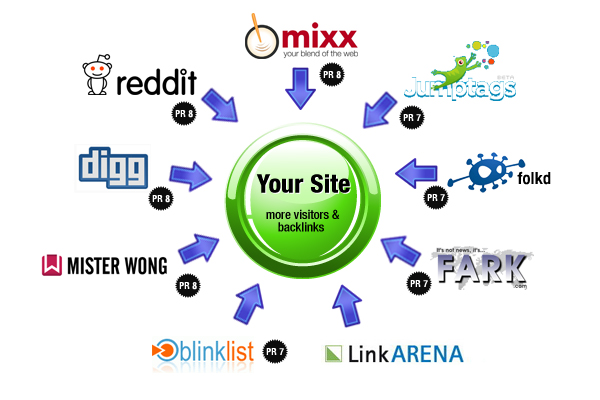 At the same time it is also useful for making different pages or blog posts for your website and thus at the end of the day give your readers better chance to share your content using their bookmarking accounts. Make sure you add share buttons to make things simple for your users.
Exchange the links:
A majority of webmasters are very much happy and satisfied to link to any high quality and reliable sites as it helps them to grow up their visibility on the web. When it comes to getting the links make sure you link to a number of sub pages or the folders rather than mere focusing over the homepage. One of the best ways to do this comes via Add Link tool from Google wherein you just have to enter your site URL to see things happening in your favour. While getting backlink make sure you get only from the sites, which are relevant to your niche area to get quality website traffic. Lastly avoid the two way link exchange practise as it can prove fatal for your site's health in perspective of Google.
Submit PRs:
Press releases are the best way to keep a buzz about your site or brand over the web landscape. This helps in knowing the search engines and connecting with your target audience at the end. Make sure you embark with high quality press releases pertaining to your business or anything about your niche area. It helps in gaining a couple of back links for your site from sites and blogs of similar niche areas.