Your videos fail to convey the enormous appeal of your products or services? Stop worrying, today we will tell you the 12 keys that are very useful to create a corporate video script.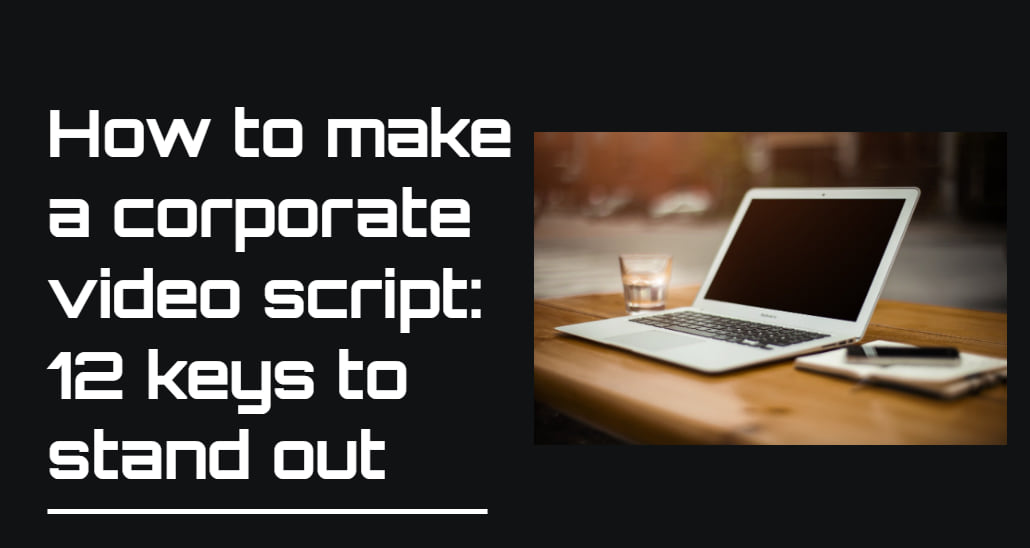 1. Think about where you are going to publish it
It is not the same to make a corporate video for a website to publish it on social networks. And within social networks, Twitter is not the same as TikTok, for example. Depending on where you want to post it, your corporate video script should be one length or another. For example, the Twitter platform only allows videos that do not exceed 2:20 minutes. The length will be essential for the client to decide whether or not to watch your videos. 
2. Avoid click baits
Avoid starting with an exaggerated and sensational message. You will create expectations that you will not meet, and therefore, you disappointed the viewer/potential customer. Similarly, avoid this type of message in your video's thumbnail and its title if you upload it to platforms such as YouTube. Do you agree that a few more clicks do not compensate a dissatisfied customer for your business?
3. Hook from the start
The first seconds of a video are decisive to hook the viewer and decide to invest his time in seeing it in its entirety. For this reason, this point is key for the creation of a corporate video script. If you are uninspired, you can save this for last once you have the rest of the script. It would be easier.
4. Be unique.
It is vital to differentiate yourself from your competitors, to differentiate yourself from other communication companies, dare to be original, to be unique. Something that works quite well is to think as if you were the spectator yourself, would the message surprise you? Would it catch your attention? For example, it will have happened to you a thousand times that you have seen something that you have already seen 20 times and directly passed the subject. It's as simple as preventing that from happening to your customers.
5. Substitute "me" for a "you."
Okay, it has become clear that your brand is the best, but you must leave egocentricity aside and focus on your client and their needs. It is your opportunity to establish a direct link with the client. Take advantage of it! This is really useful for any corporate video script. You will agree that if I tell you, "This is the best article to learn about copywriting," you will think that I am a bit freaked out. Still, if I tell you, "If you want to learn more about copywriting, this is the article you were looking for," maybe you feel that we really want to help you.
6. Use short sentences
"The good thing if brief twice good." Well, it's that easy. Don't fill customers with difficult-to-follow mileage phrases. Be concise and direct and you will make them fall in love with you.
7. Find the tone
It depends a bit on your corporate image and your target audience, but try to adapt your words' tone to your audience. For example, you will not speak in the same way to young adolescents as to retirees. But always in a close and friendly way.
8. Be original with CTAs
Communication companies are full of calls to action such as "sign up now," "subscribe now." You can do it better. See the effect of changing the "Subscribe now" for a newspaper to "Find out about everything." A good example is Netflix's Call To Action: "Watch anywhere, cancel anytime." With this CTA, they incentivize potential customers to subscribe since they are ensuring at the same time the possibility of canceling it without further worries.
9. Tell a story
A good trick to make your video memorable is to use storytelling. It will help the viewer retain you and pay more attention to you. Storytelling basically consists of telling a story. For example, you can introduce a character (fictional or real) with a problem and tell how your business solved it. In this way, you will be creating a bond and empathy with the viewer. Learning from the experiences of others is part of the process. Storytelling has been shown to increase corporate videos' effectiveness, so don't overlook this tip when writing your script.
10. Answer possible questions
Put yourself in the shoes of the viewer/client and if you see the possibility of any doubt arising, go ahead and answer it indirectly in your video. In this way, you will be covering his needs without him asking you.
11. Be humorous
There is nothing healthier than laughing. Don't be so formal, be more every day. If you want to loosen up a bit and introduce a little joke, go ahead. Of course, you are not Leo Harlem without going overboard, or are you in The Comedy Club, but to answer questions and inform your clients.
12. End with a focus on your readers
There is no better way to close a good video than with a rhetorical question that explodes the minds of your readers. You can start a little discussion in the comments or ask them a question about the video they just watched. Leaving them something to reflect on will leave a very good taste in their mouths and above all, it will help you to understand their opinion better.
Conclusion
we have told you the 12 keys that are very useful to create a corporate video script. 
We hope you can put these tricks into practice and if you have any questions or simply something to say to us, do not hesitate to put it in the comments.